A £10.000 donation by kind hearted trailer makers can help the Wales Air Ambulance save five lives, according to the charity.
Long-term supporters Ifor Williams Trailers kicked off the fundraising at the Urdd National Eisteddfod in Denbigh where they had a stand.
They converted one of their trailers for use in the  rugby line-out throwing competition with cut-out holes for targets in its tilted bed.
Entrants paid £1 for each go and they raised around £4,000 which the company matched pound for pound and then rounded up the total to £10,000.
The money was presented to Debra Sima, the Wales Air Ambulance's community fundraiser in North Wales, by Dafydd Jones and Lois Wynne, from Ifor Williams Trailers which has factories in Denbighshire and Deeside.
Debra said: "We are extremely grateful to Ifor Williams Trailers for this generous donation. It's just an incredible amount of money.
"We're looking at missions costing between £2,000 and £3,000 so that can potentially save about five people's lives. It's just mind-blowing."
The charity has carried out more than 44,000 missions since it was launched on St David's Day in 2001.
From its airbases in Llanelli, Caernarfon and Welshpool and Cardiff, an air ambulance can be anywhere in Wales within 20 minutes of an emergency call.
The cash from Ifor Williams trailers has been earmarked for the Children's Air Ambulance which is based in Cardiff, from where they provide neonatal and paediatric transfers across Wales.
It was all the more welcome because the Wales Air Ambulance, like other charities, struggled to raise money during the pandemic, with donations 50 per cent down at a time when demand for the service was rising.
Debra added: "We're looking all the time to increasing how many missions we can do so that we can have that bigger impact because we all know the amount of demand on the emergency services is just going up and up and up.
"We now have RRVs, rapid response road vehicles – two at each airbase – and that means we can still be very proactive when the aircraft can't be out because of the great British weather.
Critical Care Practitioner Carl Hudson was also hugely grateful to Ifor Wiliams Trailers.
He has been with the Wales Air Ambulance Service since the base in Caernarfon was opened in 2003.
Carl Said: "I'm in my 20th year now so I'm the longest serving one, the only original left in Wales now and probably one of the longest serving ones in Britain.
"I wanted to join the service because I could see the value that the Air Ambulance brought to everybody in Wales, but in particular to the rural communities.
"We wanted to bring an equity of service for everybody in Wales, whether you live rural or in urban areas.
"It's an incredibly rewarding job and nowadays, as a critical care service, we're taking the A&E department to the patient now.
"Rather than getting patients to a hospital, the hospital comes to them and we can do all sorts of advanced interventions from minor surgery to full general anaesthetic.
"And that can happen anywhere, in somebody's lounge, on the roadside - wherever it needs to happen, it can happen.
"The fund-raising is the only thing that keeps us flying. If we didn't have fundraising, we wouldn't have this helicopter, or indeed, any of the helicopters in Wales. The service, the charity would not exist without people generously raising money for us.
"Ifor Wiliams Trailers have supported us for as long as I've been working for the Wales Air Ambulance.
"I've met the guys and girls from Ifor Williams many times over the years, raising so much money for us and we're always eternally grateful because, without that support from the communities and the businesses across Wales, we wouldn't have a service, full stop."
Dafydd Jones, the Show Manager at Ifor Williams Trailers, said: "The line-out game went down fantastically well at the Urdd Eisteddfod and it was really busy all week.
"We're grateful to everybody who had a go because they played a crucial role in helping us to raise money for the Wales Air Ambulance.
"The charity provides a fantastic, life-saving service to the people of Wales – the crew are real heroes.
"We felt therefore it was wholly appropriate for the Wales Air Ambulance to be our chosen charity this time.
"Without them, there are a lot of people who wouldn't be here now so they really deserve our support.
"It makes us immensely proud to think that the money we have presented to the charity can potentially save the lives of five people."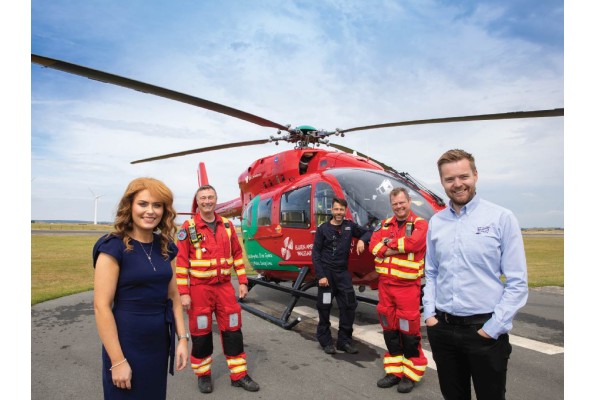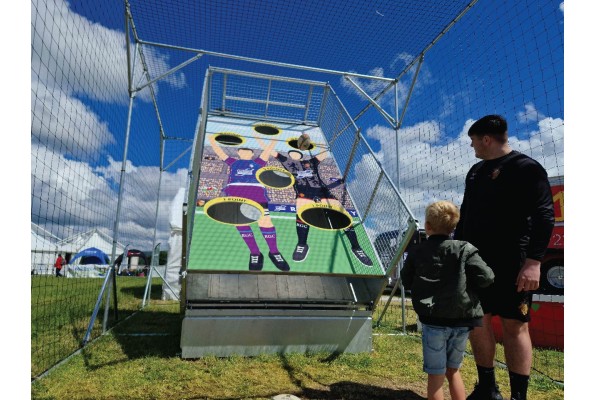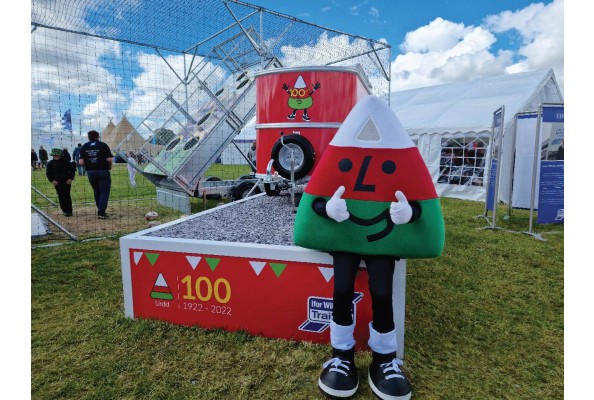 ---
News » Wales Air Ambulance charity says kind £10,000 gift can help save five lives