Peter is in the top 0.01% of employees in the world, says IWT boss
A skilled trailer maker is celebrating 50 years on the job – and one of the shortest commutes in Wales.
Father of two Peter Jones, 66, has always lived within 200 yards of the Ifor Williams Trailers factory in Cynwyd, near Corwen, where he's worked since 1973.
Living so close has meant that he's been able to walk there every day – come rain or shine or even snow.
Peter is the longest serving current employee and, as a mark of appreciation on reaching the golden milestone, he was presented with a Clogau Gold watch by managing director John Williams.
Working at Ifor Williams Trailers has been something of a family affair for him. Younger brother, Graham, is also an employee and has worked there for 48 years while older brother, Martin, clocked up 44 years before he left.
Peter started there aged 16 after studying engineering for a year at the then Coleg Meirionnydd in Dolgellau.
His first job was fitting the slats in the floors of the company's signature livestock trailers which were the only products when he joined.
Their iconic horseboxes started rolling off the production line soon after.
Since then the firm has grown spectacularly and now has six factories in Denbighshire and Deeside and employs more than 600 people.
The product range has also expanded with trailers for all kinds of possible uses - everything from flatbeds and tippers to car transporters and box vans, from catering units to mobile business trailers and medical clinics.
They are sold through a network of more than 100 distributors across the UK, most of Europe and as far afield as Australia and New Zealand.
Over the years Peter has been in a number of production roles and is currently making axles for a whole range of the trailers – and says he's enjoyed every one of them.
Peter said: "As well as my two brothers, my brother in law and my sister used to work here, so we've got a few years between all of us.
"I have really enjoyed my time here. It's been a good job, I can't fault it. There's a very good bunch of people working here.
"The time has passed unbelievably quickly – it's always been busy here.
"I'm still going and I've got no plans to retire at the moment. I feel all right and I'll carry on as long as I can. I'm very happy to have a job here.
"Without Ifor Williams Trailers, finding a good job in a rural area like this would have been very difficult. There would be no jobs – there'd be nothing.
"I'm very proud of the trailers we build – I reckon they are the best on the market and it's down to the great design and the good people who build them.
"The company has grown a heck of a lot since I started and it's now global – we've even got distributors in Australia and New Zealand.
"It's put Cynwyd on the map, it's put Wales on the map – it's an iconic product and the company is flying the flag for Wales."
Managing Director John Williams said: "Peter has been a model employee and I would like to place on record our gratitude for his exemplary record of service over five decades.
"Peter is a fantastic operator whose skills have benefited many Team Leaders while he has worked in various roles at the Cynwyd site, notably the Livestock and Canopy lines. Peter has made Canopies that now reside with their owners all over the world.
"Peter has witnessed many changes during his time here and has been a proud part of the evolution of the company.
"He has played an important role in the success of the brand and he has helped forge the DNA of Ifor Williams Trailers, helping to build our reputation for the quality and robust durability of our trailers.
"I'm glad to say Peter hasn't reached the end of the line with us yet and that he's carrying on as an important member of the team after reaching this incredible landmark.
"Peter has set the very best example to us all with his conduct within the workplace and being content and 100% productive in one company for 50 years likely places Peter in the top 0.01% of employees in the world.
"Over the 50 years ,all of Peter's work colleagues, Team Leaders, Site Manufacturing Leaders, the Directors and our founder my 93 year old father, Ifor, are all incredibly proud that Peter has achieved this truly commendable milestone."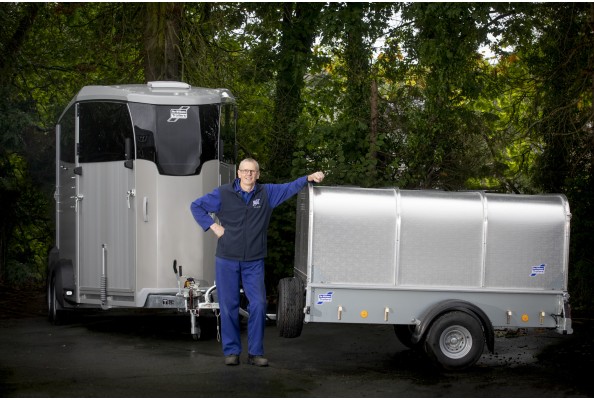 ---
News » Trailer maker Peter is as good as gold as he celebrates 50th anniversary on the line