Young rugby players are dreaming of starring for Wales with a bit of help from a top trailer maker.
Ifor Williams Trailers, who have factories in Denbighshire and Deeside, are sponsoring the Under 18 girls team at RGC (Rugby Gogledd Cymru) which was set up to fast-track the region's brightest rugby talents.
The club is based at Stadiwm CSM at Parc Eirias in Colwyn Bay which also successfully hosts Wales Under 20s international matches.
The RGC academy attracts players from across North Wales and Mid Wales, from as far afield as Newtown.
The aim is for RGC players to make it all the way to the top, representing Wales in the senior game.
According to RGC general manager Alun Pritchard, the investment is paying off with the Under 18 girls playing at an elite level and proving a match for their counterparts in the South Walian regions.
He said: "We're extremely grateful to Ifor Williams Trailers. They have supported the boys Under 16 and Under 18 pathway and now supporting the girls Under 18s pathway as well.
"It's a great help because we have girls from across the region who have the opportunity to develop their game and hopefully go on and push for Wales caps.
"That's the ultimate goal. Last year we had four girls who made it into the Wales Under 18s squad and we'd like to get even more this year.
"The women's game is expanding rapidly at the moment and this is about empowering these girls to reach for their dreams.
"These girls have had the opportunity to play with their hub clubs and are pushing on further with RGC.
"This year is I feel the first time that we are on a par with the other regions. We beat the Ospreys at Cardiff Arms Park and we drew against the Dragons at Ystrad Mynach, before losing narrowly to Cardiff and drawing with Scarlets so we are currently 2nd in the table.
"We are playing at an elite level and everybody now has the same financial base and the same opportunities. We're enjoying the challenge.
"The fact that women can now play the game professionally has inspired them massively. They are banging on the door at different age groups wanting to play, with the hope of going into a professional team and the national team in the long run.
"We ran skills centres once a week from September and they were open to anybody and then from November we've been training twice a week, once in Bala and once at Parc Eirias.
"It's a massive commitment and I am very proud of the dedication that they and the staff put in."
The club was originally founded as RGC 1404 in 2008 which is a nod to the date rebel prince Owain Glyndwr founded his Welsh Parliament in Machynlleth.
The kits of the male and female Under 18 sides along with the Under 16 team are emblazoned with the firm's distinctive logo.
Among those proud to wear the RGC shirt is forward Swyn Prysor, 18, from Trawsfynydd, who has been playing with RGC since last year.
She said: "I have been playing rugby since 2017 and it's going really well at RGC. I enjoy everything about it and I've had so many great experiences.
"I'd like to play rugby professionally and my ambition is to play for Wales."
Scrum half Georgia Powell, 17, from Newtown, said: "I am really enjoying it. It's great to make friends with people from different places. It's really interesting.
"It involves eight hours a week of travelling but I enjoy it. It's good and it's a great set up here.
"It great to play with different bunch of players and get the skills and stuff. It's great."
Flanker Branwen Melcalfe, 16, from Llanrwst, said: "It's going really well. It's been a good season so far and I'm enjoying it."
"It's brilliant that women can now play rugby professionally in Wales. There is now a path we can take to having a career in rugby. One day I hope I can play for Wales."
Llio Mutembo, 17, who lives in Llanfairfechan, added: "I really love it with RGC. This is a brilliant opportunity, particularly for the girls.
"The facilities here are brilliant, the gym is fantastic and the coaches are excellent. It's a big step up.
"The women's game in Wales is growing and that is very encouraging. If I work hard, the ultimate ambition would be to hopefully play for Wales."
Full back Neisha Roberts, 18, from Ruthin, said: "RGC is really good to be fair. I enjoy the training and the games.
"My dream is to play for Wales and the set up here provides a pathway to achieve that, especially with the development coaches coming to watch."
Back row forward Catrin Stewart, 17, from Church Bay on Anglesey, said: " I was in the RGC last year and this is my last year in the Under 18s. I am very proud of what we've achieved so far.
"We all really want to do well and we give 100 per cent.
"I played for the Wales Under 18s last year and I'd really like to play for the Under 20s next and then work my way up to the women's team."
Winger Hannah Lane, 16, from St Asaph, said: "I've been playing for about two years. I started in PE in school and then went on to play for local team in Abergele and really enjoyed it. I now play in Chester.
"I really enjoy it at RGC, there's a nice friendly environment. I get along with everybody and there are some really good coaches.
"I want to hopefully play for Wales in the future and maybe go into rugby sevens as well as the 15 a side game. What I'd really like to do is to play the game professionally."
Ifor Williams Trailers managing director John Williams said: "We feel it's very important to empower young women to reach for their dreams and enjoy a level playing field in sport.
"It is so important that women have the same opportunities as men so we were particularly pleased to be able to support RGS's girls Under 18 team.
"They are already playing at a really high level and the standard is getting better all the time.
"The future of rugby in North Wales looks very bright and I hope we will see quite a few of this squad making it all the way to the Wales team and enjoy success with the national team.
"There is an abundance of rugby talent and now there is a real pathway to play professionally and enjoy success and hopefully represent Wales in the World Cup."
Paul Davies, an account manager with Ifor Williams Trailers, is particularly pleased the firm is sponsoring the Under 18 girls team because his daughter Kate, 19, came through the ranks at RGC and is now knocking on the door of the Wales squad.
He said: "Kate is having trials with Wales and goes to the Vale Resort for intense training sessions once a month.
"She lives and breathes rugby and we go and see her play every opportunity we have.
"As somebody who works for Ifor Williams Trailers, I'm incredibly proud that we're supporting women's rugby in this way. It means a lot to me."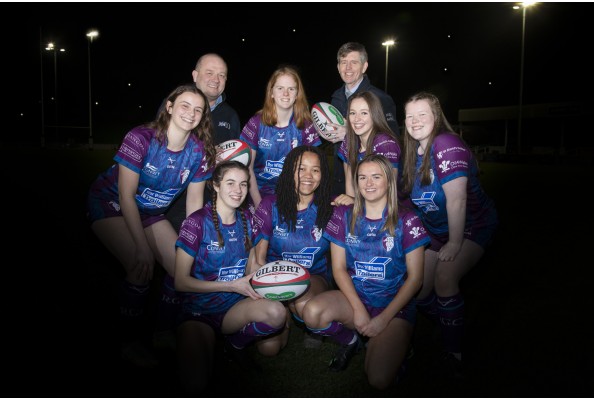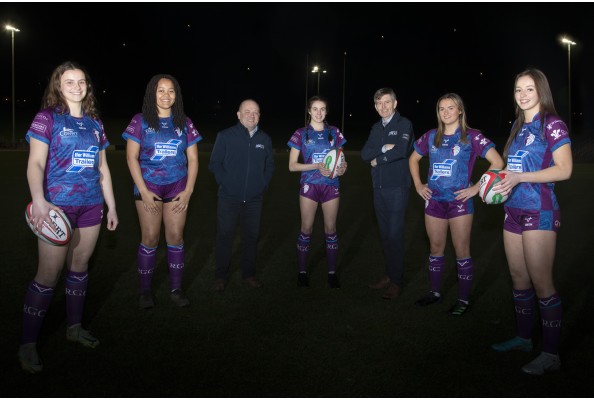 ---
News » Trailer firm boosts girl power as young rugby stars dream of international glory