A trailer firm has teamed up with luxury car maker Bentley to create a new record with a difference – powered by straw.
With the help of a tiltbed model from Ifor Williams Trailers, a Bentley Bentayga EWB set a landmark time for the famous hill climb at the Goodwood Festival of Speed in Sussex.
Winding its way through the grounds, the challenging course has been the centre of the action since the festival's inception 30 years ago.
The Bentayga EWB (extended wheelbase version) completed the 1.16-mile hill climb in just 1 minute 21 seconds while towing 2.5 tonnes of straw.
It's the fastest time ever recorded for a car towing a trailer on the course and Bentley made a film of the run which they showed at the festival.
The climb was completed ahead of the start of the festival, during the build up phase of the event, meaning the record time is not official.
The only alterations made to the standard TB5521-353 5.5m tiltbed trailer was the addition of Alloy Wheels and a bespoke bale retention frame.
The 4.0-litre, turbo-charged V8 engine was running on 100 per cent renewable biofuel made from agricultural waste straw.
All the modern Bentleys doing the hill climb at Goodwood ran on biofuel which can be used as a straightforward replacement for normal pump fuel without modification - but with an 85 per cent reduction in carbon emissions.
The 2.5 tonne load of straw hauled to the top of the hill was enough to make 1,100 miles-worth of fuel for the Bentley Bentayga EWB.
The stability and performance of the car and the trailer were tested at the Trac Môn circuit at Tŷ Croes on Anglesey and the famous MIRA test track near Nuneaton, in Warwickshire.
This is not the first time Ifor Williams Trailers – which has five manufacturing sites in Deeside and Denbighshire - has hooked up with a luxury car brand.
In 2019 the firm unveiled its sleek new HBX506 model alongside a top-of-the-range Lamborghini SSUV model, the URUS, at the glitzy Dubai International Horse Fair which was sponsored by the Italian car marque.
Among the team from Ifor Williams Trailers involved the testing ahead of the hill climb at Goodwood was Senior Design Engineer Geraint Williams.
Geraint said: "We were only too pleased to be able to assist Bentley in the very thorough preparation for the record-setting run at Goodwood"
"We are particularly familiar with the track at MIRA because we have conducted rigorous tests on our trailers there over the years, so we can ensure the highest levels of safety and durability of our range"
"The success in creating the unofficial record at Goodwood was yet another testament to stability and build quality of our trailers"
"The tiltbed trailer was a totally standard model without any modifications apart from the alloy wheels which were a nod to the sophisticated Bentley styling"
"Having said that, we're not expecting a rush of requests for alloy wheels from the majority of our customers just yet, although in fairness they looked absolutely lovely."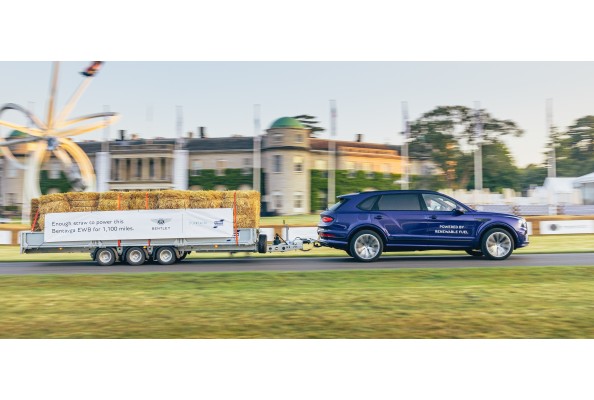 Bentayga EWB Towing IWT Trailer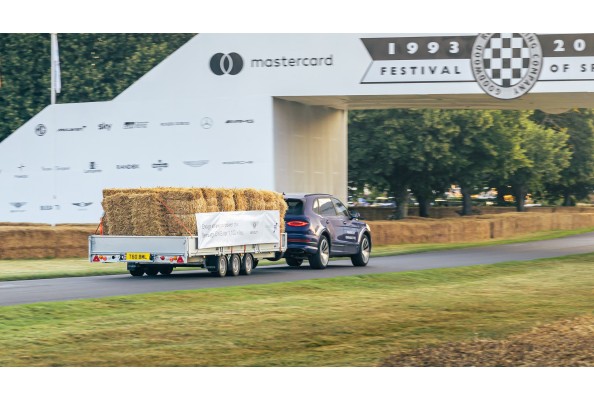 Bentayga EWB Towing IWT Trailer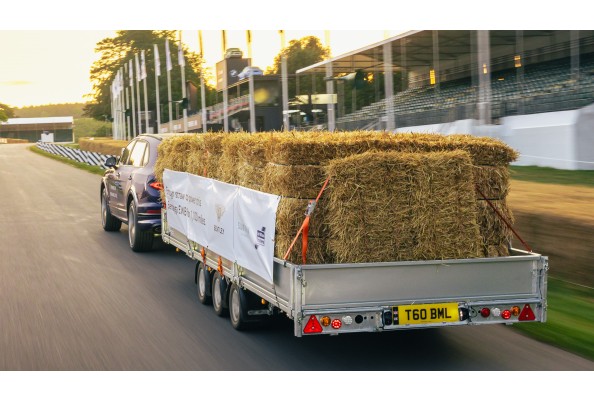 Bentayga EWB Towing an IWT trailer for the new hill climb record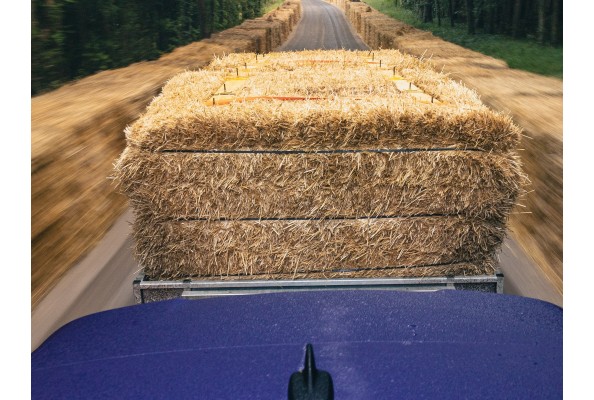 Bentayga EWB Towing IWT Trailer
---
News » Top Trailer Firm joins forces with Bentley for new hill climb record