Top Welsh comedians have been galvanised to spread the word about how humour can boost mental well-being.
Some of the nation's favourite laughter makers including stand-up star presenter Tudur Owen, who's also a popular TV and radio presenter, has volunteered to put himself in the spotlight for an inspired Q&A at Denbigh Town Hall at 7.30pm on Thursday, April 6.
Other comedians taking part in the Welsh language event called Cryfder Mewn Comedi (Strength in Comedy) include Dilwyn Pierce, Sian Parry and Eryl Davies and the MC for the evening will be Nic Parry, a well-known Welsh language sports commentor who is also a Crown Court Judge.
According to organiser Alaw Owen, who comes from Llanddoged in the Conwy Valley and now lives in Denbigh, it's all being made possible thanks to the support of main sponsors Ifor Williams Trailers, who have factories in Denbighshire and Flintshire.
They were motivated to back the event after hearing how Alaw has battled back after suffering life-changing injuries in a horrific head on car crash.
As part of her journey to recovery she set up the now popular digital platform Nerth dy Ben (Your Strength of Mind), to help people tap into their own inner strength.
It has proved such a success that she felt emboldened to set up her first live theatre event on the back of it.
Her passionate appeal for familiar local figures from the Welsh comedy circuit to take part made a big impression on Tudur Owen, from Anglesey.
He said: "I had never met Alaw but when she phoned me to explain what she was planning and asked me to join the panel on stage for this great event I could really hear the passion in her voice.
"She makes such a strong argument for the campaign to improve people's mental well-being, especially in remote rural communities where individuals and even whole families can often feel isolated."
Tudur has long believed humour offers a bedrock to help us through the trials of life.
As a patron of St David's Hospice in Gwynedd and Anglesey he has witnessed first hand how families use laughter as an antidote to stress.
He said: "It might sound strange considering the nature of the Hospice's work, especially with those facing terminal illness, but whenever I visit I'm struck by the amount of genuine laughter in the air.
"Humour is such an important tool in helping us all deal with emotions like fear, grief, deep-seated anxiety and stress."
But even a career in comedy can have its stresses, according to Tudur.
He said: "I have a slightly different take on the subject being in a full time job which demands I make people laugh. I'm a fairly upbeat guy but there are times when I have to steel myself to go out there to perform, perhaps if I'm not quite in the mood. That's when I find my family is such a support, talking to my son for instance, even online, is always uplifting. We laugh so much we always sign off with our spirits raised."
Like Alaw, Tudur supports the campaign to raise awareness of mental health issues which can wreak havoc with people's home and work lives.
He said: "If we break an arm or a leg or are otherwise physically ill we will go to the doctor, but with mental health issues so often the tendency is to suffer in silence without seeking help or even talking about it.
"It's so important to recognise that maintaining our mental good health is just as important as our physical strength for our overall well-being."
Alaw, 34, became fascinated with the power of the mind to heal after her own traumatic experience in a car crash on her way home from work in 2018. It resulted in her being in hospital for three months including five weeks in intensive care.
She suffered multiple injuries including breaking both feet and she had to slowly learn to walk again. She drew on reserves of inner strength to restart her life and deal with the mental and physical effects of the accident.
She said: "I've learned to concentrate my energies on the things I can do, and hone skills I still have rather than dwell on what I can no longer do. I think that's key to surviving any trauma and it's really heightened my appreciation of the core strengths which lie at the heart of life across rural North Wales.
"That's why I set up Nerth dy Ben to celebrate the attributes of fortitude, sheer mettle and determination which underpin so many remote communities.
"Over generations, perhaps from geographical isolation or not having some of the facilities on offer in more urban environments, we've mined our own solutions to problems and made our own entertainment. We've used our unique music, dance, mimicry and comedy to enrich our lives."
Her online platform Nerth dy Ben www.nerthdyben.cymru includes contributions from different local personalities who talk about what they do to keep their mental strength strong.
A common thread running through all the video diaries is laughter, which inspired Alaw to open up the discussion on the power of humour to help us through hard times as well as good.
She said: "That was the seed which inspired me to launch Strength in Comedy, our first live event. We chose Denbigh Town Hall because it's such a lovely venue and central for those well known names who've been entertaining us with stage, radio and screen performances over so many years.
"It'll have a very loose, spontaneous format with the audience being able to take part in question and answer sessions too."
She laughed: "Who knows in which directions the conversation will go? I don't think there's ever been an event quite like it before."
Welsh language presenter Dilwyn Pierce has hosted his own show on S4C and Eryl Davies is a local stage and pantomime favourite. Both are eager to support the event which is to be sponsored by Britain's leading trailer manufacturers Ifor Williams Trailers, of Corwen and Deeside.
Old friends Dilwyn and Eryl each nurtured their comedy skills as members of the Young Farmers Club taking part in local shows in their teens before going on to become popular entertainers in their own right.
Married dad of two Dilwyn, of Llannefydd, said: "There's a rich seam of comedy running through the farming community. Farming can be such a hard life, physically tough and also with the financial pressures so many modern farmers face. Emotions are raw too, especially in lambing season here in the Welsh hills. It's heart-breaking when new-born lambs don't survive. But at the same time farmers have a unique sense of humour. Anyone who has been in the Ruthin livestock market canteen will tell you that. The amount of banter and laughter there is something to behold."
Both he and Eryl discovered their talent for entertaining after taking part in Young Farmers Club traditional pantomimes and comedy shows.
Eryl, who is married with three children, and lives in Cefn Meiriadog, added: "In many situations laughter really is the only medicine. As the old saying goes in dark times it can be a case of if you don't laugh you would cry. We'll be talking about why that is and how comedy can lighten the mood and uplift the spirits even in the most difficult situations. It can be an ice breaker and a key to get people to open up when they might otherwise keep their emotions locked inside."
Lois Wynne, from Ifor Williams trailers, said the company is delighted to be one of the main sponsors for the April 6 show.
She said: "Most of our customers are from rural communities and we live and work alongside them so we know the value of humour in good times and bad. It will be an interesting show and one which I'm sure will inspire many laughs from the audience and those on stage."
Strength in Comedy will be held in the lower part of Denbigh Town Hall, on Thursday, April 6 from 7.30pm.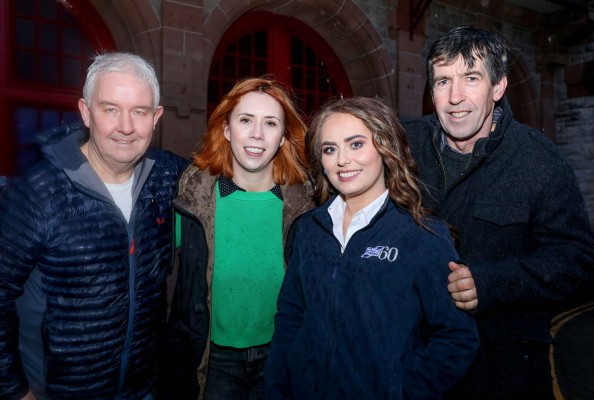 ---
News » Stand up star Tudur says comedy is a great healer