The praise came from the Secretary of State for Wales, David TC Davies MP, during a visit to Ifor Williams Trailers, accompanied by Clwyd South MP Simon Baynes.
After a briefing from the company's senior management team, they were taken on a guided tour of the factory at Ty'n Llidiart in Corwen.
The plant makes components for its five other manufacturing sites in Denbighshire and Deeside where 600 people are employed.
As well as livestock trailers, the firm makes horseboxes and a wide range of other trailers for every conceivable use – everything from flatbeds and tippers to car transporters and box vans, from catering units to mobile business trailers and medical clinics.
They are sold through a network of more than 100 distributors across the UK, most of Europe and as far afield as Australia and New Zealand.
Mr Davies said: "To see something like this is incredible. It is absolutely fantastic. The whole supply chain is set up because they're making the components that are being used by their different factories across North Wales"
"This is a very impressive company that employs hundreds of people and it's a great Welsh brand going across the world"
"This company gives people an opportunity to build a career in Wales, for their entire lives"
"Rather than have them disappear off to the big cities like Manchester or London, you can come here to this most beautiful part of Wales"
"I think it's important that we support companies that are giving people the opportunity to build careers and not just have jobs"
"What Ifor Williams Trailers is doing is giving people a challenging, interesting and well paid career that can last your whole working life"
"I think it's fair to say that Ifor Williams Trailers is a national treasure and I'm very pleased to have been invited here today."
Mr Davies said he was impressed with the amount of in-house training done by the company and was particularly taken by the paid internship scheme launched by the company.
Candidates chosen to take part in the Summer Programme will be paid £360 a week, with 50 jobs up for grabs.
Clwyd South MP Simon Baynes said: "It's been a fantastic visit and I'm really impressed at how well the company is doing, with sales growing amazingly over the past 10 to 15 years.
"I'm also particularly impressed by the way they bring on people in terms of professional development, particularly in regard to their summer internship programme which provides places for a large number of young people to come and work in the company over the summer and learn more about the business.
"Ifor Williams Trailers is a great name here in my constituency of Clwyd South and as the local Member of Parliament I'm incredibly proud of what they have achieved.
"It provides well-paid jobs in a rural area and it's great to see how the company has expanded from its original base in Cynwyd where it still has a factory. It's great to see it as a family company that's thriving.
"It is an internationally renowned manufacturing business and we're all incredibly proud of it."
Managing Director John Williams added: "We are very proud of what we do here and our achievements as a company.
"We were impressed with the insight and interest shown by the Secretary of State and Mr Baynes and we appreciate their kind words and support.
"It is gratifying to know that they hold the company in such high esteem and regard us as an important employer in North Wales."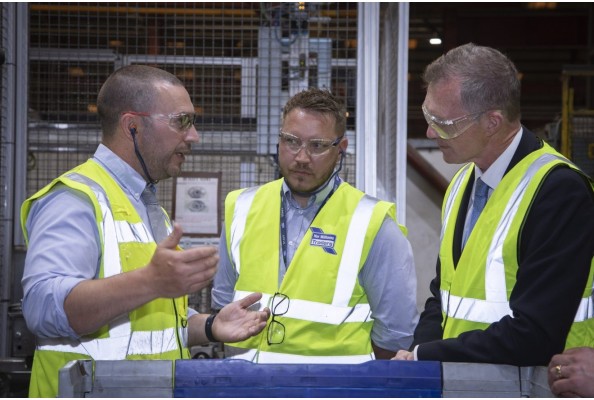 Ifor Williams Trailers visit from Secretary of State for Wales David TC Davies and Simon Baynes MP, Gerallt Parry and Jeremy Lambert of IWT with Secretary of State for Wales David TC Davies during the factory tour. Picture - Mandy Jones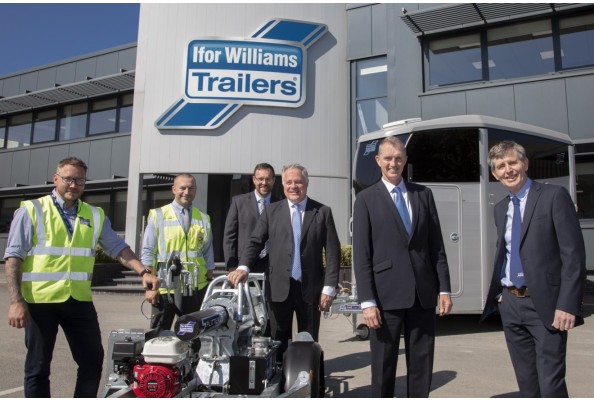 Jeremy Lambert, Gerallt Parry, Richard Bull, Simon Baynes, John Williams and David TC Davies MP all stood outside Ty'n Llidiart in Corwen.
---
News » A TRAILER maker has been hailed as a "national treasure" for flying the flag for Wales across the world.