A mum-of-two had the surprise of her life when she won a top quality £10,000 gleaming new horsebox in a competition.
Horse racing fan Chris Firth, from Buxton, in Derbyshire, bought the raffle ticket on a whim for his daughter Abigail to support the Countryside Alliance organisation, though neither of them ever expected to win.
The HBX511 model horsebox is made by leading manufacturer Ifor Williams Trailers.
Its streamlined aluminium body contains a host of intelligent features specially designed for equine transportation.
A delighted Abigail couldn't believe her luck and said it was a brilliant choice for a star prize.
She and her partner David live in Chapel-en-le-Frith, and farm a mixed flock of 250 ewes in the neighbouring village of Castleton.
She said: "It is so clean and specially designed for horses and we were so happy to have helped support the raffle and such a good cause as the Countryside Alliance."
Currently on maternity leave from her job in accounts, Abigail and her partner David, welcomed baby Harry six months ago, joining four-year-old daughter, Holly.
Abigail said: "As a family we do all love horses. My dad and grandfather are keen horse-racing fans. And I used to help part time at a stables when I was younger. I loved riding Gem, my horse, but it unfortunately had to be put down after it became ill when it was still quite young, only aged eight.
"My dad and grandad both have a share in a filly called Moroccan Moon which will have its first run before Christmas."
Her grandfather Derek Firth, who lives in Barnsley, also has a stake in a horse called Sultan's Pride, which is sadly injured at the moment.
Ifor Williams Trailers Show Manager Dafydd Jones was delighted to meet Abigail and her dad at the handover of the gleaming new horsebox and carefully went over the specification details and maintenance advice with them.
The HBX511 is one of Ifor Williams Trailers' most stunning flagship designs and its key features include the ability to open the rear of the horsebox as both a ramp and a side-hinged door, and the option to open the front windows fully, or just a little.
The sides, floor and ramps of the HBX range are manufactured entirely from aluminium planking, giving it a lightweight structure, which provides clean modern lines, making the horsebox easy to tow without compromising on strength. The sides and ramps are all anodised to give a smooth and sophisticated finish which is easy to maintain.
Dafydd said: "We were more than happy to provide the HBX as a star prize for the Countryside Alliance's raffle.
"The Alliance does a great deal of good work for farmers and the rural community in general. Many of its members are also customers of ours, so it's good to be able to give something back.
"It was lovely to meet Abigail and her family and see the mix of surprise and joy on their faces as they took possession of the trailer."
Eleasha Sallis, from the Countryside Alliance, said: "We are delighted to have partnered with Ifor Williams Trailers again this year and to have been able to offer this wonderful HBX511 model as part of our Grand Annual Prize Draw package. 
"There has been great engagement with our members with an equestrian interest again this year as well as with our wider membership who recognise that Ifor Williams is a trusted and respected brand.
"We are incredibly grateful to Ifor Williams Trailers for this successful collaboration with the Countryside Alliance and look forward to working together again in the future."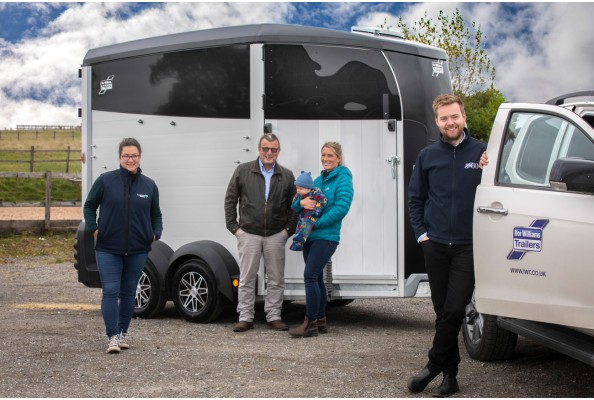 ---
News » Derbyshire mum wins gleaming horsebox worth over £10,000