A daredevil social worker who's terrified of heights is taking on a magnificent seven charity challenges – including a skydive and looping the loop while wing-walking.
Brave Ali Alcock, from Corwen, is aiming to conquer her fears in aid of the Macmillan cancer charity after they supported her during her hour of need when she was diagnosed with cervical cancer in 2015.
The week of fundraising is being sponsored by long-term supporters Ifor Williams Trailers with a generous donation of £2,200 from company director Carole Williams.
Ali has dedicated the challenges to her beloved cousin, Mark 'Weeksy' Weeks, of Johnstown, near Wrexham, who lost his courageous battle with a terminal brain tumour last September.
She's aiming to top the £20,000 she raised last year with a 10-minute wing-walk at altitudes of up to 10.000.
Ali will be returning to the same airfield in Gloucestershire but this time the plane will also be doing aerobatics, including a loop the loop, while she's stood on the wing with just a leaning post for company.
Her death-defying diary also includes a date with a skydive from 15,000 ft above the Tilstock airfield in Shropshire.
The activities kick off on Monday, June 20, with a hike to the summit of Snowdon, accompanied by more than 40 supporters, with a much faster descent on the Velocity 2 Zipline the following day, soaring at speeds of up to 100 miles an hour over the Penrhyn Quarry in Bethesda.
Ali, who works for Denbighshire County Council, is also working with local schools to make a video promoting Makaton, a language programme that uses signs together with speech and symbols.
There will be a charity race night at the Stanton House pub in Chirk where Ali is promising a "racy reveal" and the week will conclude on Sunday, June 26, with a charity football match with games between teams from Corwen and Rhos, where "Weeksy" lived.
There will be two matches one between Corwen Veterans and their counterparts from Rhos, where "Weeksy" lived and Corwen current team versus Llangollen. They will be playing for the Mark Weeks Memorial Trophy.
Ali has personal reasons for wanting to raise money for Macmillan Cancer Support.
She has credited a routine smear test in 2015 as having helped save her life, as it led to her being diagnosed with cervical cancer and undergoing a hysterectomy.
Ali was given the all-clear and has dedicated much of her spare time since then to paying back Macmillan Cancer Support for the help nurses provided while she was receiving treatment.
She has also seen other close family members receive a cancer diagnosis.
Her father, Barry Jones, has been given the all-clear after being diagnosed with prostate cancer.
But the family has also had to contend with the devastating loss of Ali's much-loved cousin, Mark 'Weeksy' Weeks, a charismatic and inspirational former paratrooper.
Ali said: "We sadly lost him in September so that's why I wanted to do as much as I could in his loving memory.
"He was a larger than life character. He was big, brave and bold and he liked extreme activities. He loved going up mountains and he was a paratrooper.
"Everything I am doing is in keeping with his spirit and zest for life and I'm involving a lot of people who were either related to him or were big friends of his.
"Throughout his battle, he was so brave, so inspiring and he endured the majority of it with a smile on his face.
"It was quite heartbreaking to see his cancer journey but he's definitely left a legacy. I know that everyone in his home town because he was originally from Rhos, they say that the place is a duller place without him.
"He was a proud Welshman so I will be wearing a pair of red dragon shorts in homage to him and I will have his picture on the back of my T-shirt."
She added: "I am absolutely petrified of heights so I am facing my ultimate fear but this is for a cause that is very close to my heart.
"I am incredibly grateful to Ifor Williams Trailers and Carole Williams in particular for their wonderful support in covering the costs of all the fundraising activities. This means so much because every penny I raise then goes direct to Macmillan Cancer Support."
Carole Williams said: "We are proud to be able to support Ali in her magnificent seven challenges to raise money for such a worthwhile cause.
"Ali and her family have certainly been through the mill and she is a courageous and truly inspirational woman who will be defying her worst fears.
"She is utterly remarkable and we hope that people will rally to the cause and help Ali in her ambition to raise even more money for Macmillan this year."
She has set up a Just Giving account for people who would like to make a donation to Macmillan: https://bit.ly/3MJyv9J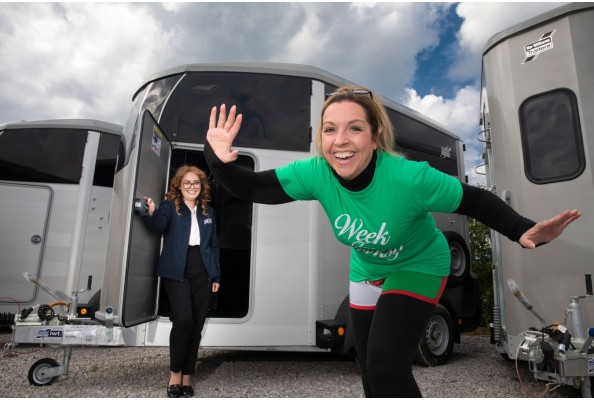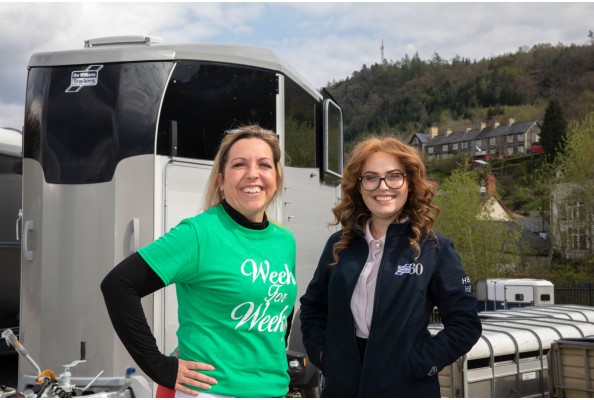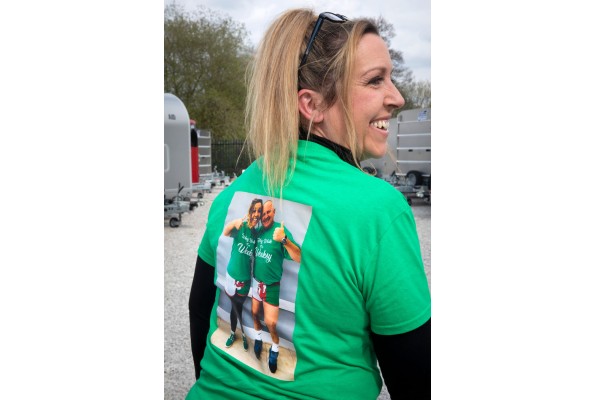 ---
News » "I must be loopy!" Daredevil Ali conquers fear of heights in aid of cancer charity